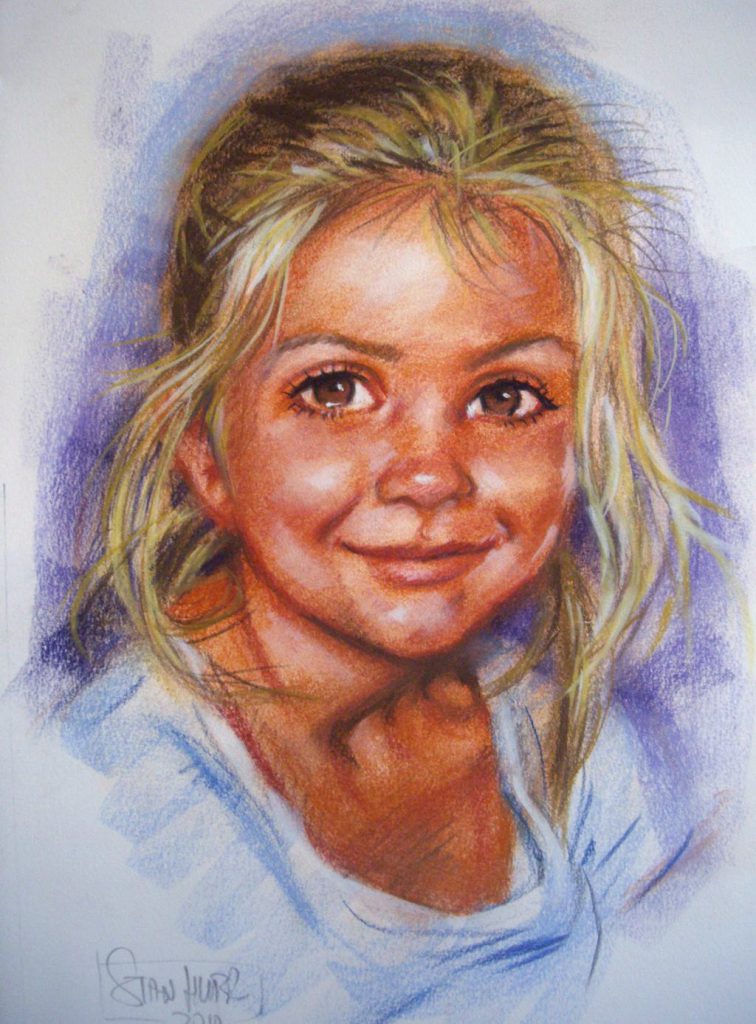 Stan is a professional UK artist who can be commissioned to paint your portrait in oil on canvas, pastel, charcoal or pencil. You can commission your hand painted portrait easily through this website, just have a look at the examples below and choose your preferred medium.
An artistic representation creates something that photography cannot replicate. Extra life, more vibrant colour create a more vivid image, with the texture of the medium and high-quality paper resulting in a beautiful and premium look for your memories.
Family portraits or groups can be done from separate photos.
The most popular medium for portraits, the flexibility of oil as a medium gives the artist freedom to reach a strong and accurate likeness. A portrait in oils has a jewel-like quality and the brilliant colours make for a luxurious, stunning portrait. Oil portraits are painted on canvas, in the traditional way.
The most popular choice for portraits. Perfectly suited for rendering an accurate likeness that bursts with life, spontaneity and colour.
If you're planning to have multiple people on one page, increase the number of subjects on the order page (one person = one subject).
Charcoal is the ideal medium for black & white portraits. It is superior to graphite pencil because it has a much larger range of tones that can better express the subtlety of a human face.
SANGUINE PASTEL PORTRAITS
Drawn in 3 colours & white, sanguine pastel produces a harmonious and subtle result. Less dramatic than full colour, for a calm effect.
Pencil portraits are especially good for smaller sizes, for example A4. Delicate and soft, with a subtle light grey finish.
Regular portrait price for the main drawing, with little vignettes as requested for an additional fee per drawing.
Many of my portrait commissions are for special occasions. Birthdays, wedding anniversaries, retirement, or family members who have passed away. I can re-unite families from separate photos. Up to any number can be drawn or painted in one composite picture. A large percentage of my orders are referrals or clients who regularly come back for my services.
Portraits from photos are rendered in oil paints, coloured pastels, charcoal or pencil.

Frequently Asked Questions from clients.
How long does it take to complete the portrait?
Portraits usually take 2 weeks to deliver, but if the portrait is needed quickly it can be prioritised. Jobs can be completed in a short time e.g. – within a few days for colour pastels or charcoal portraits. Oil portraits need time to dry, which can take up to an additional 4 weeks.
Can portraits be done from photos?
Yes. 75% of Stan's time is spent drawing from photos. He can work from all kinds of photos whatever the condition. One of Stan's favourite parts of his job is to unite families in one composite portrait — even when some of the photos are very old and blurry.
You can e-mail, text or Whatsapp your photos.
Can a portrait be made from separate photos?
Yes. Any number of people can be drawn together from separate photos.
Stan does work for the army which contain up to 50 soldiers in one large drawing.
PORTRAIT CUSTOMER REVIEWS
Some recent letters sent to Stan by satisfied customers.
I can't thank you enough Stan, the picture I asked you to do for my husband was fantastic & I'm already thinking of my next one.
Hi Stan, Just emailing to say a massive Thank You for the portraits, they were delivered yesterday. Fantastic work once again.
Hi Stan, Just to let you know that my son & granddaughter were thrilled with the portrait of her, Thank you so much.
Need help deciding medium, size, composition…?
Get in touch with Stan by phone or email (or Whatsapp!) and he'll be more than happy to discuss your commission with you.
Almost anything you can dream up is possible!
Want to commission a painting or drawing?