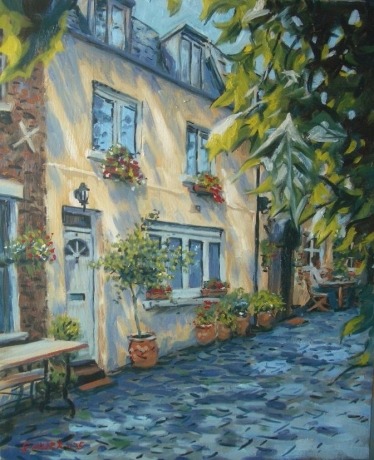 HOUSES, VEHICLES & LANDSCAPES FROM PHOTOS
Stan loves to draw, and that includes buildings, vehicles and nature. If you'd like an oil painting of your home, a drawing of your pub, or a watercolour of your favourite holiday destination: no problem at all. 
You, or someone else, can be included in the artwork (see Bikes examples). On the order page, choose Houses, Vehicles & Landscapes, the medium, then change the number of subjects. e.g. for one person on a motorbike, the number of subjects should be 2. 
Vehicles not shown here that Stan has previously drawn include: trucks, yachts, buses, tractors, helicopters and armoured vehicles!
A painting of your house from photos is much more effective than a photo alone can ever be. With Stan's 40 years of experience, he can bring out the best aspects of your home. The artwork can be done in oils or watercolour, usually from your photos (Stan does offer a photo-taking service, which will include extra costs for travelling, time, etc).
A painting or drawing of your car from photos. Stan: "I've painted many over the years, so I know how passionate car owners can be." His 40 years of experience and built-up skills will produce a beautiful, dynamic image of your vehicle that is also very accurate.
A motorcycle portrait from photos. Your bike can be drawn or painted by itself or with the owner on it or beside it. Stan Hurr Portraits were advertised in Bike magazine for several years, and as a result he has a lot of experience doing portraits of motorbikes.
Have a truck, boat, bus, tractor... helicopter?
No problem! Stan has already previously drawn all of the above, and is willing to take on anything else you can throw at him!
On the Order page, choose House, Vehicle or Landscape and then choose your preferred medium.
As I love impressionism, my landscapes are very colourful and expressive. Good for holiday memories, favourite places, etc. I can tackle any subject, whether it be a city scene, landscape, flowers…
HOUSES, VEHICLES & LANDSCAPES BY STAN HURR
I love to paint and draw everything! Though I specialise in portraits, I am endlessly curious. I sketch, draw and paint the human form and nature, but also the man-made world of cities and objects.
I need to live another 100 years to satisfy my curiosity and love of drawing and painting.

When you're ready to order, click the button below to go to the Order form.
You'll be able to view the price, choose the number of drawings on a single page, and even be able to add vignettes (smaller drawings) around your main drawing.
Additionally, you can give any customised instructions about what you'd like in the artwork (or not in the artwork!).
HOUSES, VEHICLES & LANDSCAPES FAQs
Frequently Asked Questions from clients.
How long does it take to complete the artwork?
It usually take 2 weeks to deliver, but if the artwork is needed quickly it can be prioritised. Watercolours can be done within a week, but oil paintings need time to dry, which can take up to an additional 4 weeks.
Can the painting be done from photos?
Yes. 75% of Stan's time is spent drawing from photos. He can work from all kinds of photos whatever the condition. 
You can e-mail, text or Whatsapp your photos (see Contact page).
Can a painting be made from separate photos?
Yes. Any number of pets can be drawn together from separate photos.
Need help deciding medium, size, composition…?
Get in touch with Stan by phone or email (or Whatsapp!) and he'll be more than happy to discuss your commission with you.
Almost anything you can dream up is possible!