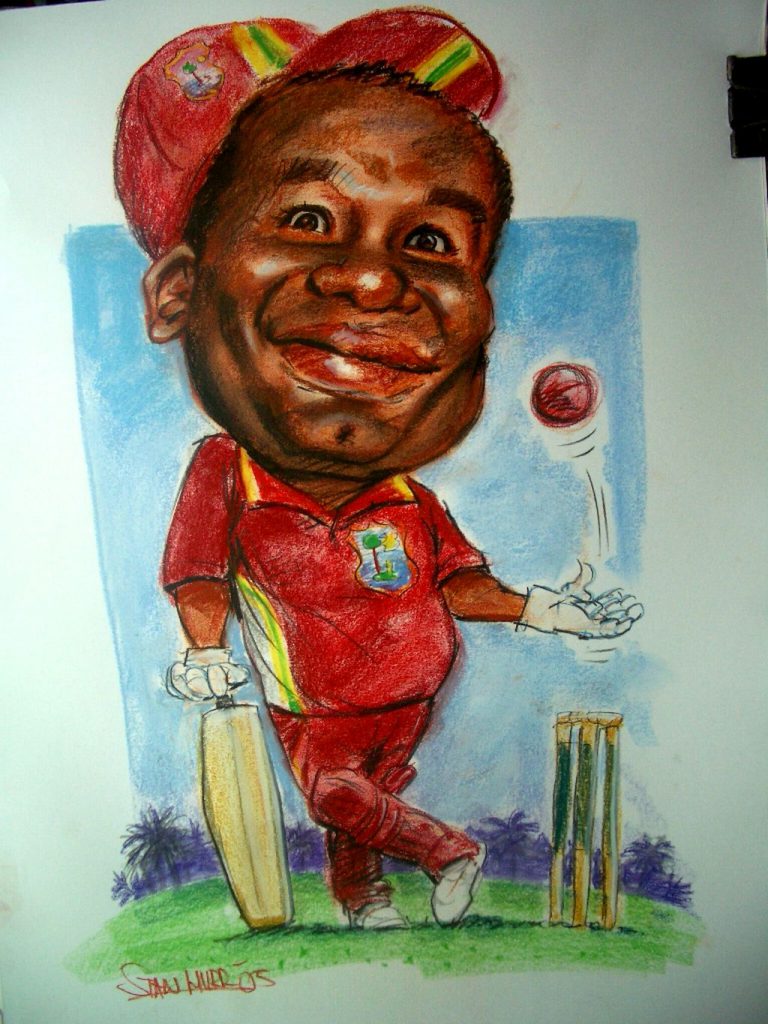 Caricatures are a funny cartoon style with exaggerated characteristics. Stan's 30 years of experience as a caricaturist means that you'll get a great resemblance and a fantastic, personalised picture to hang up on your wall. Choose from colour pastel or charcoal for your caricature (see examples below), or, if you want a smaller size to give as a card for a special occasion, Stan can render anything you can imagine to make the day that extra bit special.
Caricatures are great for large groups, as you can request details for each subject to match their personality. Caricatures are also a great gift idea, whether that's Christmas, birthday or any other special celebration.
Colour caricatures from photos really brings out the character of the person depicted. There is no extra charge for any scenario your imagination can think of. Can be for an anniversary, birthday, retirement, wedding, whatever, a custom caricature looks great hanging on your wall. A charming, original art souvenir.
A black and white caricature has a powerful dynamic quality that stands out. A caricature in charcoal has a tonal range that produces a subtle and strong image.
A custom-made, bespoke card is a very special way of communicating your love, your friendship, your thanks, your esteem for a colleague, marking an event, birthday or anniversary. Instead of hours searching for a suitable card in a shop, let me do exactly what you would like on a card. This makes the card more personal and means a lot more to the person receiving it. Cards are done in watercolour and marker pen.
CARICATURES FROM PHOTOS BY STAN HURR
Doing caricatures from photos is great fun and a great complement to my serious portraits from photos.
My caricatures have as much lifelike reality as my portraits, thanks to the many years I have spent drawing caricatures from people sitting for me on the Ramblas, Barcelona, at resorts on the Costa Brava and in shopping centres in France and the UK.
My caricatures from photos have a strong likeness based on sharp, penetrating observation. I like to include any background, scenario, interest or hobby requested, at no extra cost.

Frequently Asked Questions from clients.
How long does it take to complete the caricature?
Caricatures usually take 2 weeks to deliver, but if the caricature is needed quickly it can be prioritised. Jobs can be completed in a short time e.g. – within a few days for colour pastels or charcoal.
Can caricatures be done from photos?
Yes. 75% of Stan's time is spent drawing from photos. He can work from all kinds of photos whatever the condition. They can be physical prints or a digital photo. You can e-mail, text or Whatsapp your photos.
Can a caricature be made from separate photos?
Yes. Any number of people can be drawn together from separate photos.
Stan does work for the army which contain up to 50 soldiers in one large drawing.
Andy, my husband, had a wonderful 70th birthday yesterday.

The caricature that you did with the steam train and the Sheffield Wednesday connection was a huge success. He loved it and it became the prime talking point with every visitor we had.

Thank you SO much.
Want to commission a painting or drawing?
Need help deciding medium, size, composition…?
Get in touch with Stan by phone or email (or Whatsapp!) and he'll be more than happy to discuss your commission with you.
Almost anything you can dream up is possible!