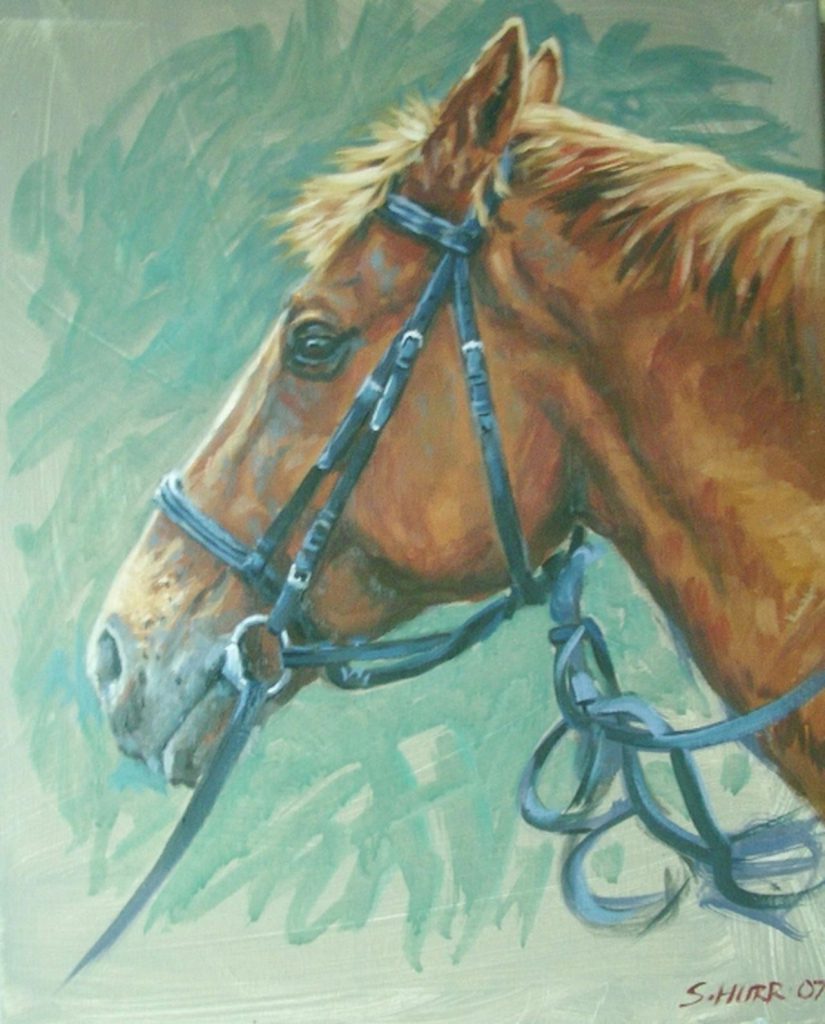 PET PORTRAITS FROM PHOTOS
Stan receives commissions for pet portraits (dog portraits, cat portraits & horse portraits) and quite a few other species of the animal kingdom besides. His colourful and expressive pastel pet portraits style is perfectly suited to bringing out your pet's character. Pet portraits make the ideal gift!
We love our pets and appreciate the joy they bring into our lives. Often that can mean that we collect lots of photos of them — perfect for a custom, personalised pet portrait! An original, hand painted artwork which can take pride of place on your wall. Be sure to choose a photo which clearly shows the eyes (for dogs or horses, for example, actually only one eye might be visible), with good lighting and good contrast. 
Drawn from your photos. Colour pastels are perfect for depicting your pet in Stan's accurate and lively painting style. His long experience brings out their characters.
Stan is a cat lover and knows how much they can mean to their owners. Colour pastels are the perfect medium to depict soft cat fur. Capturing their unique characters is one of his priorities.
Horses are beautiful, elegant creatures. They can be drawn in any pose, head & shoulders being the most popular, full length should be drawn a lot larger. With or without bridles they look great. Colour pastels really portray well the sheen of their coats.
COMPOSITION PET PAINTINGS
Regular portrait price for the main drawing, with little vignettes as requested for an additional fee per drawing.
You'll be able to choose the number of vignettes on the order page.
Your pet not listed here?
No problem! Stan has drawn many other pets including rabbits, hamsters, guinea pigs, budgies and parrots…
On the Order page, choose your preferred medium (Colour Pastel Portrait / Charcoal Portrait / Sanguine Pastel Portrait / Colour Oil Portrait / Pencil Portrait) and then specify your pet in the "Additional specifications for your artwork" box.
PET PAINTINGS BY STAN HURR, ARTIST
I love to draw animals as much as people.
In my pet portraits I love to capture their unique personalities, their energy and vitality.
Their elegance, beauty and charm.
I know pets are dearly loved, so I work hard to make a lively, faithful portrayal of your pet that also captures their personality.
I can put up to any number of pets together in one picture. It is popular to have a large portrait of the pet surrounded by smaller, varied poses. Scroll down my examples to find a style that suits you.

When you're ready to order, click the button below to go to the Order form.
You'll be able to view the price, change the size of the artwork, choose the number of drawings on a single page, and select from Head & shoulders / Half length / Full body.
Additionally, you can give any customised instructions about what you'd like in the drawing (or not in the drawing!).
If you prefer Charcoal, Sanguine, Oil, or Pencil for your pet art, choose the relevant option (Charcoal Portrait / Sanguine Pastel Portrait / Colour Oil Portrait / Pencil Portrait) in the Artwork dropdown box and specify that the artwork will be a pet in the "Additional specifications for your artwork" box underneath.
Frequently Asked Questions from clients.
How long does it take to complete the pet portrait?
Portraits usually take 2 weeks to deliver, but if the portrait is needed quickly it can be prioritised. Jobs can be completed in a short time e.g. – within a few days for colour pastels or charcoal portraits. Oil portraits need time to dry, which can take up to an additional 4 weeks. If buying as a gift or gifts please note that Christmas is a busy time so book early.
Can pet portraits be done from photos?
Yes. 75% of Stan's time is spent drawing from photos. He can work from all kinds of photos whatever the condition. 
You can e-mail, text or Whatsapp your photos (see Contact page).
Can a portrait be made from separate photos?
Yes. Any number of pets can be drawn together from separate photos to produce your custom pet painting. 
PORTRAIT CUSTOMER REVIEWS
Some recent letters sent to Stan by satisfied customers.
Hello Stan, I just wanted to say a HUGE THANK YOU for the BEAUTIFUL DRAWING that you did of MY BELOVED DOG DOUGAL yesterday, it has brought me much comfort these past 24 hours, you captured his character so well.
Hi Stan
The portrait arrived in this afternoon's post. We are delighted with it - you have captured Finn and Honey perfectly. We will be off to the framer tomorrow!
Once again, many thanks.
I posted the portrait and your business card on my facebook with the comment…Thank you Stanley Hurr for capturing the Soul of my beautiful boy.
I honestly can't thank you enough. You have an amazing talent.
Need help deciding medium, size, composition…?
Get in touch with Stan by phone or email (or Whatsapp!) and he'll be more than happy to discuss your pet portraits commission with you.
Almost anything you can dream up is possible!